Link bài tiếng việt: [UPDATE] Mock Test V2.0 - Miễn phí làm bài không giới hạn tất cả các bài Mock Test trên App
Greetings, fellow PTE Magic members,
I'm Henry, a member of the PTE Magic technical team, and I have some exciting updates to share with you regarding the PTE Magic platform:
All the updates mentioned below will be implemented in the system at 2:00 PM on Aug 9, 2023 (Sydney time).
Marketplace - PTE Test - Virtual Test Center
Introducing an advanced addition to our Marketplace - the "PTE Test - Virtual Test Center. With this feature, you can instantly generate randomised practice tests. All questions are based in our updated database. This dynamic tool offers you unparalleled practice to excel in your actual exam.
In your platform's profile, Mock Test is changed to Scoring Token. Noted that: if your Scoring Token > 0, you can attempt any mock test as you want. You'll only lose a Scoring Token once you finish and score a test.
New Improvement for Mock Test - Introduction
We have improved and fixed some issues regarding Mock Test - Introduction.
Henry
PTE Magic App
[Guide to use Random PTE Test - Virtual Center]
1. After Login, you can select Marketplace
2. Step
3. Here, you can see Overview of this product.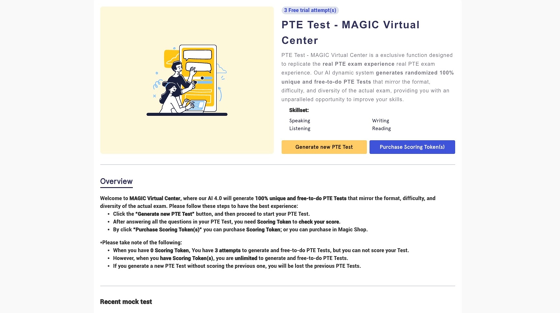 4. Click "Generate new PTE Test"
5. Click "NEXT"
6. Once you can verify that your headset is okay. You can confirm to start your test.
7. Click this cell
8. Click "In Progress"
9. Click "CONTINUE"